TECNAL offers a complete range of coagulation lines to cover all your production needs.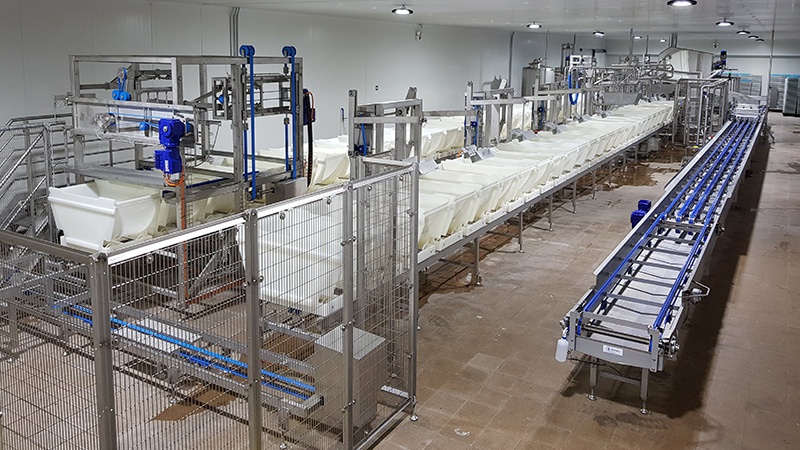 The Dynafrom Batch Line: production in batches or runs from 180 to 4,000 litres.
The Dynafrom Continuous Line: production from 1,000 to 100,000l/h.
Basin lines designed, produced, assembled and tested at TECNAL offer you the following advantages:
Very high flexibility: you can proceed different products and cheese-making technologies without losing too much time. The DynaFrom line lets you work in batch or continuous mode, from the filling station to the moulding station. You can transform the quantity of milk you want while monitoring and improving precision of each cheese-making parameter.
Very high regularity of production: the geometry of our vats, associated with our cutting systems, with or without robots, guarantees regularity of your grains of curd. Fines creation as well as fat and protein losses are extremely limited.
Very good hygiene: the design of DynaFrom Batch and Continuous lines by Tecnal's engineering department optimizes the daily washing operations. Our solutions enable you to work in optimal conditions of hygiene and comply with international standards (IFS, BRC, etc.).
Tracking and traceability of production
Suitable moulding: We have several types of moulding suited to your different standard deviations and budget objectives.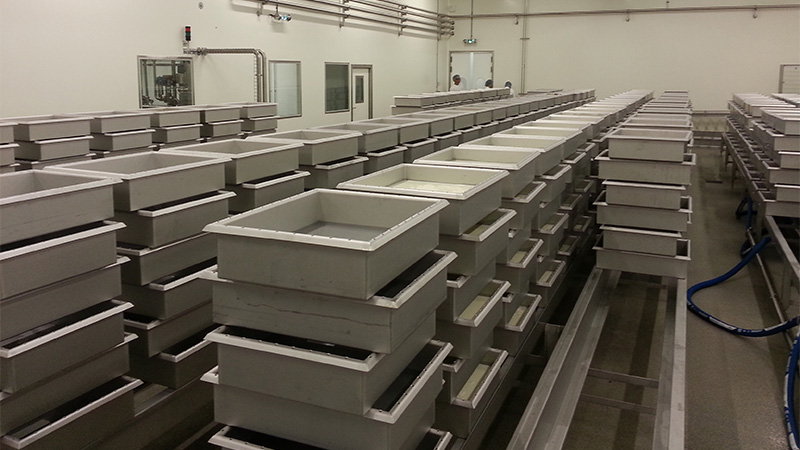 Our stainless steel micro basin lines have several advantages:
Specifically developed for fragile curds with a lactic character,
The volume of milk in micro-basin inox corresponds to the moulding of an entire mould block,
The moulding is done by automatic or assisted turning of the micro-basin lines on the mould block.